2019 Helpline Report and Related Research
In 2019, Stop It Now! published a report on the 23,000 conversations our Helpline staff has had since our first call in 1995. The report showcases how Now!'s Helpline is a window into the real-life conversations, situations, and experiences that represent the majority of child sexual abuse cases, but that are rarely spoken aloud. We have a unique 360-degree view of child sexual abuse from bystanders, survivors, and people at-risk to harm – all helped free and confidentially.
This Helpline data was also used in a reseach article, "I Didn't Know Where to Go": An examination of Stop It Now!'s Sexual Abuse Prevention Helpline," published in the Journal of Interpersonal Violence in October 2019. This study additionally reinforces the importance of child sexual abuse prevention helplines that focus on reducing the isolation and secrecy that creates conditions which make children more vulnerable to abuse.
The Stop It Now! Helpline Report
23,000 hopeful conversations about child sexual abuse and prevention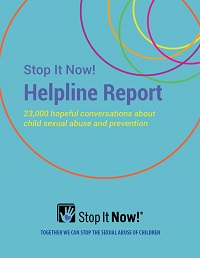 Click here for the full report.
Click here for the executive summary. 
"I Didn't Know Where To Go": An Examination of Stop It Now!'s Sexual Abuse Prevention Helpline
Billie-Jo Grant, PhD., Ryan T. Shields, PhD, Joan Tabachnick, MPPM, and Jenny Coleman, MA, LMHC
Journal of Interpersonal Violence
Volume: 34 issue: 20, page(s): 4225-4253
Article first published online: September 5, 2019; Issue published: October 1, 2019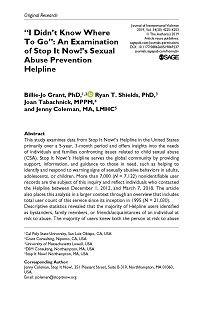 Click here for the abstract. 
To request a copy of the full article, please email

info

[at]

stopitnow.org

.