About Circles of Safety ®
Sexual abuse prevention and safety training for youth-serving organizations and caregiving adults  
Circles of Safety Training Schedule for 2023 
Circles of Safety (COS) is Stop It Now!'s signature training series. These trainings are designed for adults to prevent child sexual abuse in youth-serving environments, such as schools, foster care programs, after-school programs, camps and daycares. Trainings can be delivered as webinars, community workshops and comprehensive multi-day organizational trainings, including trainer certifications. 
Stop It Now! provides a skill-based, confidence-raising and action-planning educational experience. This is not a passive training about responding to abuse that has already happened; this is an educational session on actively keeping children safe wherever they learn, play and grow.
Trusted By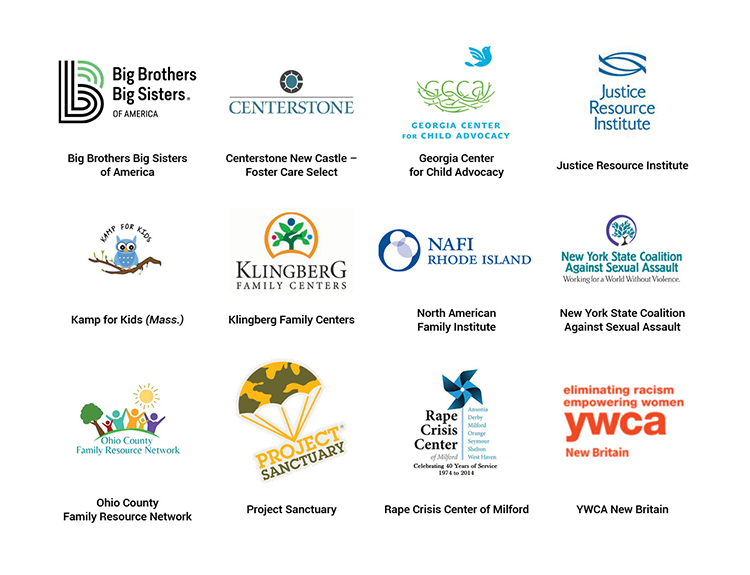 What Trainees Are Saying
"All foster parents need this training, no all humans need this training."
- Foster parent
"The training was amazing! I didn't know how much I needed this. Everything was so relevant to my job, and I think everyone should be aware of this information!"
- State sexual assault coalition prevention educator
What Makes Circles of Safety Different 
COS is highly customizable and can serve as a foundation for ongoing prevention planning and activities in any setting. We aim to provide a training experience that is respectful of the needs and concerns of any community, be it professional or personal.
Circles of Safety combines education with support, information with empowerment, and action steps with confidence-building in personalized training platforms to change the way individuals and groups understand their role in prevention. 
Through interactive presentations that combine reflective and team-building activities, individuals are able to apply what they've learned both immediately and in long term, vision-oriented prevention programming.
Intended Training Audience 
Now! knows that adults need to be accountable for keeping children safe — adults are the ones who can make changes in environments to make them safer. Circles of Safety trainings are appropriate for:
Parents
Professional early childhood education and care providers
Foster parent, residential, and in-home support professionals
Treatment providers
Community safety and parenting educators
Teachers
Youth programs and camps
Any group of adults interested in learning what they can do to keep children safe from sexual harm
Get Training Now
About Stop It Now!'s Training Program
Stop It Now! has 30 years of experience and leadership in building awareness, knowledge, confidence and comfort so that adults in all settings are able to speak up, take action and prevent child sexual abuse. Core to the Stop It Now! holistic approach to prevention is conversation — direct communication about sexual victimization of children and how to prevent or stop it.
Stop It Now! provides training and technical assistance programming to educate and support all adults to provide safe and healthy environments for children. Based on violence prevention and bystander engagement research, public health and adult education models, our Training and Technical Assistance program disseminates lessons learned from our community capacity building activities and from our Helpline's unique window to vulnerable environments and warning signs in settings from around the globe. Learn more about the evidence base for our work. Click here to download our Circles of Safety Brochure. 
Our goals:
Build capacity and embed effective prevention policies, practices, and programming in organizations serving and impacting children and youth, thereby reducing the incidence of child sexual abuse.
Create and share educational resources and tools that are practical, easy to implement and incorporate both best practices and evidenced based strategies to prepare and support adults to be active agents in children's safety planning.
Address barriers and misconceptions that may get in the way for both individuals and communities to think and act protectively and preventively.